WELCOME TO .netLIVEHELP
Live Help, Live Chat and Live Customer Support for ASP.NET web sites.
netLIVEHELP enables you to quickly and easily add live support to your ASP.NET web site. As a software based solution there are no additional monthly fees, service fees or per operator charges outside of what you are already paying for your ASP.NET hosting. .netLIVEHELP is a complete support suite providing real-time web based chat and email ticket based together for one affordable one-time licensing fee.
.netLIVEHELP consists of 3 parts: a server side engine for chat communication, a thin web based client supporting AJAX, and a feature rich desktop application for operator chat.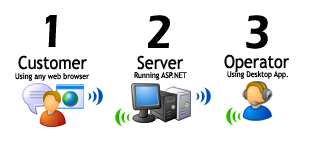 1. A customer using any web browser on any platform requests live help. The request is made to the server.
2. The server, running ASP.NET on an IIS web server, accepts the request and routes it to an available operator with the lowest load.
3. The operator answers the request and communication is made from the operator back to the server which relays the information to the customer. See feature listing.
Build your sales and customer loyalty with the addition of real-time live support chat!
.netLIVEHELP Version 4.1 includes missed chat emailed message handling, new access support and more. Now you can service real-time chat and mail ticket based and customer self help requests with one seamlessly integrated solution. Learn more about the mail ticket features of .netLIVEHELP.
Also includes iOS, Android and kindle fire web client support, x64 support, Windows 7 support, real-time spell check, AJAX proactive chat, language customization, operator pictures, multi-chat docking and much more!
Our most feature rich and innovative dotnetLIVEHELP version was last updated September 27th, 2016. If you enjoy reading long feature lists, click here. Otherwise, download the free trial and experience what .netLIVEHELP has to offer today.
Download now
ASP.NET live help designed from the ground up for .NET.
Unlimited number of operators, departments and client chats
Advanced AJAX chat interface without postback or flashes
Supports xcopy deployment for easy installation (FTP files and run, no installer is required)
Scalable web service implementation supports multiple database backends for communication and message storage including MS Access, MS SQL Server, MySQL and Oracle.
Support suite has an optional add-on for mail ticket handling. This robust system is simple to configuration and requires little configuration.
Read More
.netLIVEHELP enables you to integrate live chat functionality into your website very easily. In addition, you pay a one time software licensing fee per domain for unlimited operators which is much more affordable than service based solutions. ASP Alliance Review
Overall I was impressed with .netLIVEHELP. It's easy to use and to set up making the job of live help affordable and easy to implement for all size organizations. DevCity.NET Review
Thanks, you have a great support team! We are very pleased.
Read More
At .netECOMMERCE we have worked for over